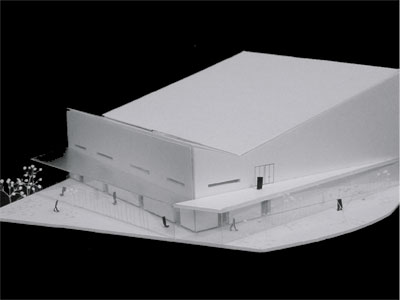 This is a redesign project for the Setagaya public theater in Tokyo. Currently, the theater is part of a building which includes a shopping centre. On this project, the theater is separated from the building and built next to it.
The place is surrounded by shopping malls, high buildings, a small station, a main road and shopping center. There is an under pass which links to 2 stations.
This new theater has an inside space, an outside yard and an inside but outside space as foyers. During the time before the next stage starts, the audiences normally wait in the foyer. This project suggests that if this small theater has 2 or 3 kinds of foyers, the audiences will be happy to stay in the foyers chosen by themselves, dependent on the weather or their mood.
As for the access, it has 3 ways; One is from a small station by going across, another is from the ground level by descending the big steps and the other is from the basement, so there are different scenes from inside and outside to access there.